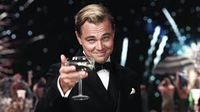 To celebrate the launch of Riddledom, let's do something different for this week's Storm. Relying on puns - the very stuff of Western riddles - let's invent a bunch of toasts for a young couple, or perhaps a youngster on the cusp of adulthood.
Feel free to toy with homophones, or double-meanings, or maybe a twist of idiom. The essence gets down to wordplay, with a neat or unexpected punchline. Here's a sampler, the first two cribbed from gag websites:
May all your pain be champagne.
May all your ups and downs be under the sheets.
May all your ails come cold and cheap.
May all your pitfalls turn into goldmines.
Here's to being positive, except at the pathology lab.
Raise your glass to X, the hero himself inside pheromones.
May glee be yours, and never a rerun.
You get the drift - a sneaky quip, a sleight-of-tongue, a verbal curveball. If it helps, specify the person whose being toasted, or the occasion. Otherwise, lift your glass and dazzle us with eloquence. See who can win over the room.
PS - if that room is near Brisbane, then come along to any of my four sessions at this weekend's Writers' Fest, and let's clink glasses. Cheers, and may all your banes be Brisbane!