24 February, 2012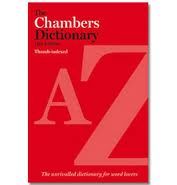 Came across a checklist this week of new words admitted into the Chambers 12th Edition. Just words, mind you, without their accompanying definitions.
Among the usual suspects – such as paywall and locavore – I struck a few mystery items. Acronyms too, plus the odd familiar (like haircut) that must have acquired a secondary meaning when I was looking the other way.
Resisting a Google, or a Chambers visit, do you dare to define any of these listings? Promise I will reveal the true meanings next week, but thought it may be fun to speculate (in shrewd or surreal ways) on what the hell these ten mean.
bahookie
Carroll diagram
footsal
haircut
memory foam
paraceratherium
planform
SONIA
TARP
TED spread
Seriously, if you DO know – then please share. Or make an educated stab. Or go troppo, and bluff us with your bunkum.