19 March, 2011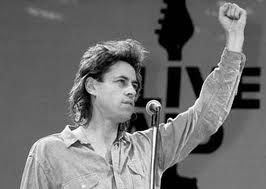 A mellow Storm, but that's no bad thing. Sometimes we need a little slack, either from creating or adjudicating. The challenge was to compose an ABAB quatrain – in Elizabethan manner – to précis a piece of modern history, a tribute to Amy Burvall who's doing the opposite – revisiting antiquity via pop.
PRS took history into his own hands, narrating the Christchurch quake (he only just escaped) and some SBS gameshow. AG took a turn for the Nostradaman, with every decade laden with fill-the-blank corpses. Mr X trespassed the caucus room, Robskee occupied the grassy knoll and Sea of Tranquillity in one neat pivot, while Mauve pushed the envelope with all sorts of ABBBABBAA variations.
Though the podium had room for three poets only. In order of merit, from bronze to bragging rights: RV collects their maiden Storm bling, reliving That Ball in lyrical fashion:
Bleach blonde hair, lips clowned with zinc
there's no beach here thought Gatting.
Then drift and spin, a fateful clink,
A brave new world for batting.
++
With a neat metre, and seamless rhyme, JD catapults us back to Wembley Stadium:
Bob Geldof,Phil Collins, Mick Jagger and Queen,
To alleviate Africa's starvation plight, would
stage the biggest rock show ever seen.
Raised millions of bucks, got Geldof a knighthood.
++
Top dog this week is Mauve – fresh from his Loroso glory – with a witty, pithy analysis of social media:
If you're intending to fray some nerves
try Wikileaks – or Google
But if you want vengeance (or just a perv)
try "that" St Kilda schoolgirl
Thanks for the doggerels, hepcats. And see if we can't take a engender a wilder tempest next Tuesday. Till then, if not before.
"