24 June, 2015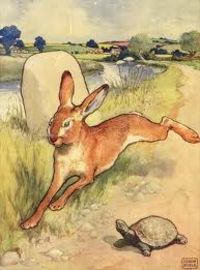 Just struck me, for all the Brainstorms we've played, all the clues we've crafted, we have seldom strayed into the realm of phrases.
Maybe there's good reason for that, as this week will discover. The sayings at your disposal all hail from Aesop's Fables - the trite and the true. The list was inspired by a Mental Floss listicle, parading a massive 19 examples. Though I've handpicked a neat dozen, adding a few omissions, each awaiting your treatment.
But please don't rush, as slow and steady wins the race...
CRY WOLF
SOUR GRAPES
LION'S SHARE
NIP IN THE BUD
DOG IN A MANGER
LOOK BEFORE YOU LEAP
BIRDS OF A FEATHER
HONESTY IS THE BEST POLICY
FAIR-WEATHER FRIEND
BLOW HOT AND COLD
WOLF IN SHEEP'S CLOTHING
NECESSITY IS THE MOTHER OF INVENTION