4 April, 2014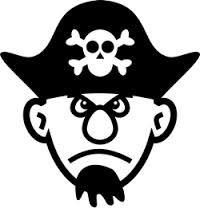 As solvers, we rely on the penny to drop. And today, in this week's Friday folly, we need the penny to drop as cluemongers.
No need for cryptic tricks here – just think of a word or name that makes a new word once it loses its P, for Penny. Cranky buccaneer, of course, is an IRATE PIRATE, while cider could be considered as APPLE ALE.
That's right, your P word can be first or last, just as you can lose one or several Ps. Sound like a game? Let's lay.
DA1 – Nonsense playwright
DA2 – Incumbent leader
DA3 – He-tree
DA4 – Reducing spray
DA5 – Juicy fruit
DA6 – Glare?
Do we need words lengths? If so, then oblige, lease!