6 April, 2011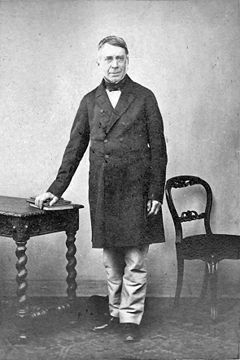 In a word, aaaarrghh. Yesterday, solving Crossword #61 in my bid for a century, I stumbled. And it's all to do with a Royal Astronomer from the 1800s. This bloke on the left in fact – George Biddel AIRY, whose principal claim to greatness is dragging the chain in cosmic research which allowed the damn French to discover Neptune, and not the Anglos.
Some claim. And some anguish. The clue was deceptively simple:
Astronomer's word for 'light' (4)
I had the letter pattern of A _ R _ and put in AURA. Made as much sense as anything – the penumbral light of planets, and the southern aurora, and the NASA satellite, Aura. But in the wise words of Boniface, a star Dabbler on this site: "obscure double defs can be very tricky". Indeed.
So a pox on the Airy household, and the Times compiler who deemed the historic allusion fair game. I feel like committing hari-kari over Airy, though one solver's grief is another's opportunity. That is, if you wish to join our Times Quest to reach 100 puzzles – even 75 would be nice – without direct help or reference books, then hop aboard the shuttle, as we launch today, since Times 8971 in The Oz poses as the first in a galactic series. Aargh.