28 June, 2016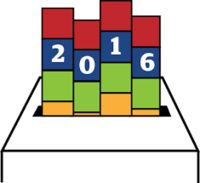 Storm time, and this week we apply the oxywelder to those incumbent candidates in the marginal seats - both Coalition and Labor reps. Get used to these names, as come Tally-Room Telly, you will hear plenty more about their fate.
So here's the dozen, the first six above the line are Libs, while the next six are Labor, all 12 currently holding their seat by their fingernails. With no need of definition, can you compose a classy clue for any candidate?
(And please excuse my cameo role this week online, as for the next 2 weeks I'm hosting Arvos on ABC 774 Melbourne, filling in for Clare Bowditch. Tune in between 1-3 to hear me learning on the job.)
LUKE HOWARTH
MICHELLE LANDRY
NATASHA GRIGGS
FIONA SCOTT
LUCY WICKS
RUSSELL MATHESON
___________________
KAREN MCNAMARA
LISA CHESTERS
TERRI BUTLER
MICHAEL DANBY
ROB MITCHELL
ALAN GRIFFIN
Exercise your democratic panache, and clue away.