14 May, 2013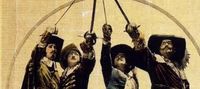 This next fortnight marks a spell in our Storm frenzy, due to a mad stretch of events. But you know me – I love a game. So let's call this week an imperfect Storm, with no formal vote, no prize, and no outright winner. But plenty of thrust & parry.
Good news for CL, our simpatico go-between. (I'm seeing a tech today in hope of making the voting easier for all.) And welcome news for the maverick players too, as this game could go anywhere.
On the back of last week's puzzle – ONE FOR ALL AND ALL FOR ONE – we have a kindred challenge. The game has three elements, each entailing the swapping of ONE for ALL, or ALL for ONE. Here they are:
Who can discover the best kosher coupling? FOOTBALL and FOOT BONE is a decent benchmark. Can you top it, using legit words or phrases?

Create a word or phrase that seems OK, like CAKE STONE, or GAME OF THRALLS, and supply a comical definition. HONE OF FAME, say, could the axeman's mecca. While a BOOTY CONE is a stolen icecream.

Make a non-word, a non-phrase (TROMBALL? BOLSHOI BONEET?) and make a classy clue, with definition (of the source) included.
Use your real names as glory stands to be immediate this week. See who stands to be our greatest (unofficial) musketeer, displaying superior wordsmanship. Have fun.