15 October, 2013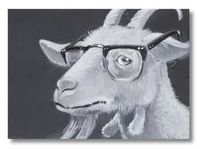 Are you aware of GOAT taking up the even letters of IGNORANT? Or the irony of BRAIN being the odd letters of BARBARIAN? And maybe less ironically, you can find BARRISTERS hoarding ARSES when things even out.
Let's make merry this week with the Alternate formula. See who can make the best example, using both definition, wordplay, and those familiar Alternate signposts such as regulars, regularly, periodical, now & then, or here & there…Or maybe you can craft your own cue.
No holds barred in terms of topic or length, so long as you resort to a pure Alternate recipe. Choose an alias that has an Alternate qualities, and after some midweek meddling in the forum, declare your best three by late arvo Thursday. Then, to give you a break, I will play judge and jury on the weekend to declare the podium places. Here are a few warm-ups:
Hint: culture evens out = CLUE
It's regularly scabbarded! = SABRE
Hue intermittently offered by Canterbury Tale-teller? = CHAUCER
Go ensuites! Sorry, NUTS. And see who can make the most astonishing Alternate. The goat dares you.