18 February, 2012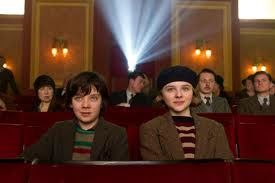 A triple-digit Storm to prelude the authentic Oscars, with a furious and simpatico workshop to distinguish proceedings. All the more reason to carry my critic duties with honour, rating each clue on zing, concision, originality and story. Cue drumroll, as I read the nominees:
BEST PICTURE
Admired the two Moneyball ideas – Buckshot and Doughnut – and a special mention to Rooster Cogburn's spoonerism of the same movie: Bugs attack Spooner? Flick's the answer
But in the end the academy plumped for modernity, and the seamless surface of Clapperboard's HUGO:
Xbox hub?
BEST ACTOR
Rooster again did some deft reduction with Gary Oldman (Fishy almond paste?), and special mention to Midnight Cowboy for a compact Demian Bichir ('Mexican actor made rich man die,' I bragged), but the Tinsel Committee pushed long and hard for Red Carpet's elegant BRAD PITT:
Daughter in riotous bit part
BEST ACTRESS
Bill Blass drew gazes with his terse treatment of Michelle Williams (Obama sisters), and Parisitic Nostalgia drew oohs with 'Child actress' (for Streep), though special mention went to Sacheen Littlefeather for her nimbler Streep: Secretly perm frizz without first consulting actress. Lovely. But the Celluloid Mafia adored the originality of Cut Crystal's ROONEY MARA:
Wicketkeeper scores duck for $500, gets Australian cap for his silence
Or the subtitled version: RODNEY MARSH [swaps D for O, and SH for A]. How's that?
Call it rigged, call it propitious: but that leaves us with a lockdown, where Clapper, Carpet and Crystal share gold, and Rooster/Midnight/Sacheen pool silver. Or do you see the appraisal otherwise?
In short, the year's first blockbuster Storm comes complete with a Hollywood ending. Well done all production houses. Thanks for the emotional rollercoaster. Now who the hell are you?