3 April, 2012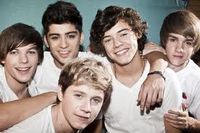 The other day, making a MetroHead puzzle for the Friday gig guide, I was toying with compass points. The inspiration was the English boy band, One Direction, due to lob into a sea of manic tweens any day now.
Stuff one direction, I thought. Why not two? (Or three, if you're very clever.) Take a fish like SNAPPER. If you change the N to W you make SWAPPER. So a two-direction clue could be: Fish trader (7,7). Just as a triple could be clued: Plain shed saloons (4,4,4) = BARE BARN BARS.
Instead of cryptic, this Storm awards the fusing two or three words into one neat unit, and coming up with a stylish or funny clue. And let's keep the solving side too, where we get to crack each player's creation. To that end, let's number each post with your byline and clue number. Like:
DA1 – All-but perfect replica (5,5)
DA2 – Considers talcs (7,7)
DA3 – Mexican disappointment (7,7)
DA4 – Aquaphage? (5,5)
Feel free to get inventive, so long as you supply the right number break down, and keep the clues on the fair side of tricky. For example, Guru group plunging (4,4,8) = SAGE RING WAGERING. We may get tripped up by a backlog of unsolved ideas – so try to track your own clues in the wash. And by Thursday midnight, ensure your best DIY trio is filed for a podium dash.