1 April, 2014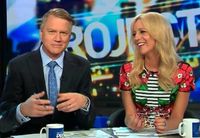 Maybe this more a whim than a Storm, but can we cobble together any clues that read like an alarming truth, the kind that might be served on a day like today?
Just heard TV Tonight's David Knox on Radio national telling us that Andrew Bolt will now head up The Project, replacing Charlie Pickering. While the news bulletins on the same station said a US firm called Carbon Tacks was suing the Australian government for misusing its trademark, as a homophone.
Nice gotchas. So can we make a clue to read like a gotcha? Here are my first few bids:
TAHITI – Tony Abbott has intentions to immolate leaders in the Pacific
METEOR – Mars, remote shooting star
STEVE IRWIN – Interviews re-animated Aussie icon
INFO – Dope found planted in rain forest
Let's have some alarm-tripping fun with the idea.