28 April, 2011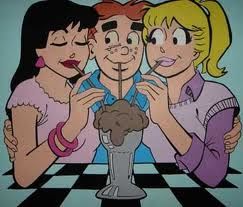 Away at the Archie lunch today, sitting among my fellow sitters, and the refined oilers who turned us into art. To cover my absence, here's the best of the best among our Picture Puzzlers from last week, if you'll excuse two of my own canvases hanging among the chosen. The idea was to turn a living Australian into a 'wordplay tableau', where Pat Cash (for example) may entail a billfold caress, while Pat Rafter could see an artist hit the roof. Enjoy the gallery, with runner-up and winner to conclude the collection:
Tim Flannery: Tangled film in a leather-making house [DC-inspired bit of bloodiness]
Murray Bail: on a river in a leaky boat [RK reinterprets a Split Enz classic]
Bill Leak: a bibbed platypus [speaking of which ….from moi]
Eric Bana: Fluffed rice with two-thirds banana [Boniface gives us everything but a rusk]
Amanda Marburg: Morning and a dirty jumbuck facing west [The artist as art, framed by Boniface]
Kerry Greenwood: Cow field copse [Sam getting Constable-like]
Willie Mason: an obelisk sculptor [DA works the shallow end]
Jimmy Barnes: Pry open sheds loudly? [Farm invasion, c/o Nib]
Kevin Rudd: Almost an entire outboard motor swallowed by singer lang. [For all the years I've stared at Kevin's name, I have never seen a near-Evinrude staring back. Boniface deserves his runner-upship.]
Curtis Stone: The dog on the tuckerbox [Had to be. RK dovetails the legendary with the culinary, and picks up the Cryptic Archibald, 2011.]
"