13 December, 2016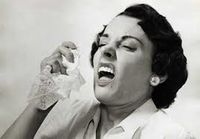 Over the years I've been collecting words that sound like sneezes. (Hey, we all need a hobby.) The idea kicked off with cashew and has proven pretty much contagious ever since.
Anyway, here's my roll-call below. What other words can be added? And can you create a crytpic clule for any of the entries. (A bonus point if you can relate the wordplay to the act of sternutation.)
CASHEW
KAZOO
SKETCH
UNHITCH
SAMIZDAT
TARBOOSH
MACINTOSH
ASKEW
PATCHOULI
CURFEW
Who will rule the drool?