19 June, 2012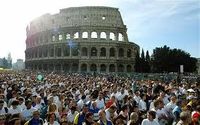 If the headlines don't dwell on Fairfax slashing, or The Voice booming, then they obsess about tougher times for the Eurozone. Jobs cuts. Market slips. Less tzatziki for your coin.
That's why this week's Storm focuses on downsizing, with a Euro flavour. As a breka from heavy-duty clueing, your challenge is to pare a single letter from a European location, a Euro identity or title, and lastly a word or company with strong European links, and then to provide the reduction with modern meaning, or paint the latterday picture. For example, here's a couple per category:
HELSINK – where Nokia vanished down the plughole
MADAME TUSSAUDS AXWORKS – tourist trap undergoing a staff rightsizing
MARCO POO – stormwater explorer
AS BATT – insulation consultant
SAGHETTI – pasta with deficient starch ratio
EUROVISION SON CONTEST – Whose bambino has the the best Botticelli curls?
Feel free to flex your creative muscle and Eurotrash the map. And yes, you can totally rely on puns, non-words or homophones to work up the gag. As the examples also tell you, you own licence to roam within the wider borders of Europe, including UK, beyond the central Eurozone. Also, if you don't know what category an idea may fit, treat the final category as the catchall.
A few more important points: choose a Euro-alias as this will be a popular vote again. And come Thursday at 9pm, ensure you have posted your best six (two per category) for the ballot. As for voting, you wield six votes – 3 points and one point per category – so e-lect carefully.