8 October, 2010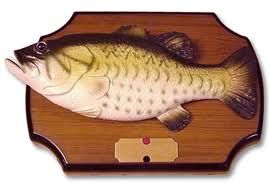 Every Friday, you'll find Radar Trap in the Herald. A code puzzle, often with a comic topic as heading, the Trap will ask you to make such lists as Drag Queens, Spell-Checked ARIA Winners (Messy Hijinks and Dealt Goodie may sound familiar), Fake Movie Sequels and even Hangover Cures.
Well, at the embryo stage, I'm trying to work up a new Trap list all about Fishy Songs. Now if you live in NSW, and regularly solve the code puzzle – then avert your eyes.
Consider your Spoiler Alert issued.
For those still on the line, please help. I'm looking for song titles that punnily pull in a fish. They need to be short as Metro's space is limited, and I need a total of nine knee-slappers, and so far have a lousy three.
They are Guppy Love, Achy Flaky Heart and Like a Sturgeon. No band names please – so out with New Squids on the Block. And no titles too long – a tsk-tsk therefore for Salmon Enchanted Evening. While Shy Koi (by Banaranama) is probably too obscure, or too subpar to pass.
Can you rise to the bait? I'll use the best nine, if you can shade my current three, in a future Trap. Get tackling.
"