29 April, 2012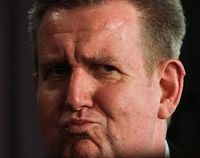 Today's dozen answers purr with two double-Rs each. A veteran Aussie actor, for example, is Terry Norris. There's a Clive James book called Brrm! Brrm! (seriously), while a current state premier is Barry O'Farrell. Derr, rright? Fine, let's see how rough & ready you R in sorting out the rest.
Licence to nab (6,7)
Hunter town (5,5)
Veteran Vic keeper (6,5)
Chinese figurine (5-5,7)
Networked nuptials? (8,8)
Melbourne suburb (5,6)
Two Sydney suburbs
Don McLean hit (6,6,5)
Vain chant opener (6,6…)
Sci-fi humorist (5,8)
Miles Franklin winner (5,5,2,3,5)
Enjoy life while you can! (3,5,3,2,5,3,8,2,3)
[Any morre offerrings?]
SOLUTION NEXT WEEK
BB359 SOLUTION: Genome, indigo, meerkat, torment, andante, intrepid, interact, shoehorn, achiever, cameraman
"