21 August, 2012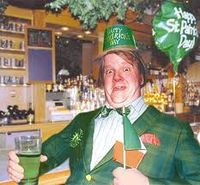 Top o' the morning to you. I'm speaking faux-Irish thanks to a crossword I found in the expat rag, Irish Echo. For cryptic connoisseurs, it's junk food, and not the tasty kind. Many of the clues overstrain, or lack any surface lustre. See for yourself in the five samples below, with your job this week: to create worse for the same five answers.
MAO: Chairman hides himself in O Maolbhallaigh's townland
BEG: An insect, it's said, for example, shortly leads to ask humbly the small Irish
ASPEN: Napes are confused for Colorado town
TREPAN: Confused parent of surgical tool
ST ANTHONY: To find this clue, pray to saint of lost things!
Gadzooks that's guff. Can you do worse? Let's see, as you adopt shambolic code-names for the exercise, and submit your five-clue trash for judging before Thursday 9pm. Usual voting system, but in reverse – 3 points for worst, and 1 for next crap in each word, via the DA email. Winner to receive a resounding Bronx cheer from the gallery.
PS – in the interests of brevity, since bad clues are often long clues, keep your dross to a 3-line max. Though kudos to those who can be succinctly deplorable. This will be fun, to be sure.