10 March, 2015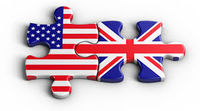 A dual clue challenge, where we ransack a list of US/UK words, dreaming up clues for both members of each transatlantic pair. Use this list as a kickstart. Or feel free to meander outher sources as well, including the vast Wiki entry.
Please identify each pair you're tackling, the better for browsers to appreciate your skulduggery. And make a point of defining each word - the same way or afresh. To get your cogs cranking:
DIAPER - Bum wrap compensated in hindsight
NAPPY - Article covers insurance premium in cool base cover
++
VACATION - Break Spanish cow into droving
HOLIDAY - One setter disrupts divine respite
Have a lark/scream.