25 August, 2015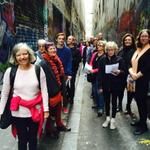 This week's Storm is an update - and thanks. Last Sunday's Riddle Walk was a big hit, with a full list of guinea-pigs juggling letters, unpicking puns, spotting laneway palindromes, and finding fugitive allusions in Melbourne's bluestone maze.
Ninety minutes of puzzle mayhem, with coffee and prizes as finale. A big thanks to Lisa Dempster, runner of the Writers Fest, for backing the walk, plus you wonderful people for all your bridge-suggestions the other week.
The idea that suited best involved 15 cards, each card bearing a three-letter word. This was ideal to distribute as rewards as we walked. Later, as the meta-puzzle, the players had to rearrange their loot into five nine-letter words along the moat.
In order the pieces made this list:
CAN/DID/ATE
NEW/SPA/PER
PEN/TAG/RAM
PET/TIC/OAT
WAR/RAN/TEE
Other candidates were:
CAB/LEG/RAM
CAR/PEN/TRY
TOR/MEN/TOR
Hey, what a handy list to clue! Not just those eight longer words, but any of those three-letter pieces. And feel free to mix-and-match the inventory into other combos, like CAR/PET or LEG/ATE etc. Start bridging and thanks again.