23 November, 2015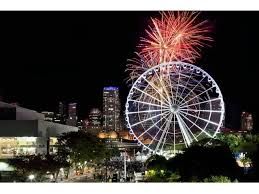 If you see this post in time, why not tune your tranny to the ABC at 11am,? For anyone outside Victoria, you may just catch your blog host yapping riddles and other word riffs with Richard Fidler. The spot is live, though a podcast will bob up later in the week.
Still in cane toad country, I'm launching Wordburger at the perfect inner-city store: Where The Wild Things Are. No podcast I'm afraid, but your cue to check the burger book at your own local hangout. Ideal for that wordy munchkin in your life, or maybe an intrigued adult who wants to learn the cryptic arts one wet weekend.
A few other chats & events north of the Tweed - I'll let you know when more become available for slurping. In the meantime, to pass the time before I return midweek, try these gorgeous clues from recent Brit teasers:
1. Escort a minimum of three people (5) [Times 10391]
2. Make water boil for Earl Grey etc (7) [Brummie]
3. Wave of excessive euphoria, dropping Es (10) [Arachne]
4. Germany extremely inept as a nation (5) [Paul]
5. Litter mounts up after English proms (10) [Bonxie - a Down]
6. Literary type charges Kindle outside (10) [Bonxie again]
7. Soldier, died with no protection (8) [Loroso]
8. Being sacked, or I must leave business? (7) [Times 10350]
At the very least, I sense Storm potential in Clue #4's trick: any takers? Or feel free to give tips, share answers, or craft clues for matching solutions, as good as these are. Catch youse soon.