13 May, 2014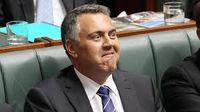 Here's an idea, with a prize attached. Instead of despairing over fuel excises, debt levies and Newstart allowances, why don't we budge T?
Choose a word where a T can shift, like TEAS, say, which can morph into EAST. Or TASER triggers ASTER. Then clue both words for a chance to win a vintage collection of Fairfax crosswords, including 25 DA classics. (That's right – I have a prize budget this week!)
A few ground rules. Only the T can budge, ruling out such pairs as THING/NIGHT, or STEAL/ASTLE – though THIN/HINT is kosher. Therefore:
HINT – Trace naked Japanese religion? [s/HINT/o]
THIN – Dilute hydrogen in metal [T(H)IN]
Second, as above, clue both words, including definition and wordplay. Let's also bear in mind, since the pairs aren't plenteous, that players are allowed to toy with the same duo.
And last, choose an alias with a fiscal flavour. GDP? Forward estimate? Bracket creep? I'll compete under a pseudonym, not that I can win. I'll decide the winner after the Thursday midnight deadline, and announce the fanciest financier on the weekend. Happy budge-t-ing.