5 May, 2015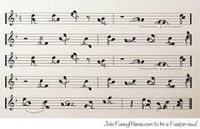 A, B, C, D, E, F, G
We know the notes by heart. We see them in clues, and hear them over the airwaves. So let's get a little more note-devoted and compose clues for words only using those same seven letters.
EGG? GAGA? DEFACED?
You choose whatever arrangement you desire, with names and repeats part of the fun - just note well: no non-notes are to appear in your answers.
I'll begin the beguine:
ABBA - Graduate reflected on cult band
GAFFE - Tape short slip?
BEG - CADGE to collect other notes?
Feel free to offer several clues for the one answer, just to give other players the chance to BAG their own ACE versions. Tune in.