1 July, 2011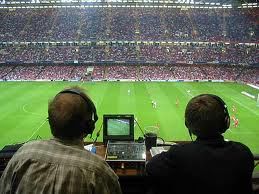 This puzzle is Part Two of the latest AFL challenge, first launched on the Almanac. The trick is to trawl the commentary box – both TV and radio, both primary callers and special comments across all networks – and identify the commentators clued below. If the first six were a relative breeze, this next instalment may prove more stubborn. So, what AFL caller is:
a big apple flower;
a cat;
a road hog;
a reindeer tail, oddly;
making dull cuts;
theatrically seen with milk?
Feel free to answer here, or theorise. Or maybe clue your own sports caller – just number new clues as you go. Tennis anyone? Cricket?
SOLUTION AT ALMANAC ON WEDNESDAY
"