15 January, 2012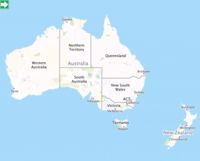 In each case below, X represents the capital of Australian state or territory. Pick the right city, then mix the assigned letters, and you'll solve each clue. X + SAN = Penrith team (PERTH + SAN = PANTHERS). Each of our cities is used once only. One answer has two words.
(And for those wishing to extend the challenge, why not declare another finite group, and see if you can jumble each member with a few extra letters.)
X + MO = WC
X + SNT = had NaCl removed
X + TER = WC illness?
X + ALO = glut
X + GF = belittling
X + FOE = restraint
X + HW = integer
X + SC = irritability
SOLUTION NEXT WEEK
BB343 SOLUTION: AWOL, SCUBA, UNESCO, AIDS, OPEC, WYSIWYG, KISS, LOL, MASH, NIMBY, ROM, PIN, LASER, SWAT, SNAFU (Other acronyms are possible.)
"