11 October, 2016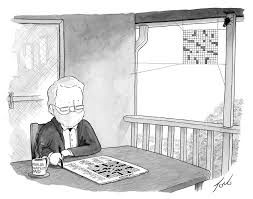 Cartoon fans will know these names, or recognise the messy signatures attributed to each legend. All 20 are giants of the New Yorker cartoon desk, cranking out gags for more than half a century.
(Pssst - cartoon fans will also love the four events I'm hosting over the next fortnight, toasting the work (and new book) of Melbourne imp, Oslo Davis. For details, head for the events page on Oslo's site. All are free, inc a caption contest with prizes.)
But perhaps you can win Oslo's book - Drawing Funny - right here. In celebration of all things, see who can best convert any of these captioneers into a nifty cryptic clue - with no wordplay needed. No call for a cover-name. Just go nuts, and submit your finest before Friday 5pm. I will pick the pearl next week.
So have fun with the letters, and come celebrate the funny pictures if you can.
CHARLES ADDAMS PETER ARNO
CHARLES BARSOTTI GEORGE BOOTH
ROZ CHAST TOM CHENEY
LEO CULLUM DANA FRADON
EDWARD KOREN ARNIE LEVIN
FRANK MODELL GARRETT PRICE
MISCHA RICHTER WILLIAM STEIG
SAUL STEINBERG PETER STEINER
MICK STEVENS JAMES THURBER
BARNEY TOBEY JACK ZIEGLER