2 October, 2012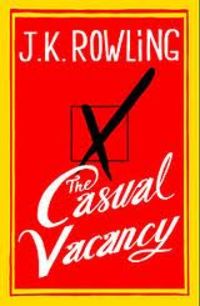 In case you've been in a coma, JK Rowling has released a non-Potter novel for grownups called The Casual Vacancy, which sparked this week's Storm. It's simple on paper, but who will be the master of omission?
Pick a word and provide a clue. Next, create a vacancy by dropping one letter to make two smaller words, and clue both these. Here's a taste:
DUNGAREES: Ungreased style of overalls [anag]
DUNG: Doing good, having finished audition [G + 'done']
ARES: War-god regularly smashed down barriers [alternate]
Or this one:
HAWTHORN: Grand final team hammered one before siren, said Spooner [Thor/horn]
HAT: Top question becomes pointless [wHAT]
HORN: Some author nearly blow this [hidden]
Of those two examples, the first trio is stronger as it avoids repetition of one element, such as HORN. But neither is likely to win the Storm, as this will be a patient and crafty game, finding the right word, making the strategic vacancy, and contriving three graceful clues.
There's our challenge this week, Dabblers. In honour of Rowling, let's go with Potter bylines, and offer our two best trios by 9pm Thursday. Voting is up to each player. For your first four votes, decide on which is the best trio (4), next best (3) etc per cluster. And then you have two wildcard votes for best long word (3) and best fragment (also 3). To be clear, either of these wildcard clues may or may not be already part of your trio awards.
Are you qualified to fill this week's vacancy? Well then, apply.