30 September, 2012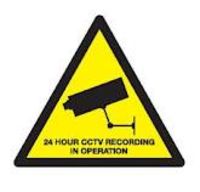 George Orwell was right. Big Brother is watching us, every breath we take, every move we make. Even these answers hold CCTV (Close-Circuit Television) from left to right. Counteractive, say, is one insidious specimen.
So how many more of this invasive dozen can you name? And can you add to the insidious list?
In a row (11)
The pill, say (13)
Eye complaint (14)
Firm's honcho (5,9)
Sharing one's thoughts (13)
Of helpful criticism (12)
Co-op model (10)
Sales rep, quaintly (10,9)
Speech-triggered (5-9)
Grammatical case (10)
Profitable (4-9)
Hallucinogenic (12)
SOLUTION NEXT WEEK
BB381 SOLUTION: Buckling, feeling, chuckling, starling, crackling, rustling, garbling, dumpling
"