1 April, 2012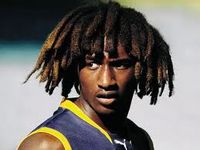 We've spell-checked nine Australian sporting champs, past and present, ending up with the bizarre mob below.
Craig Lowndes, for example, was deemed to be Cigar Loudens in the mind of Microsoft, just as Nice Natation was the software upshot of West Coast star, Nic Naitanui. Can you name our pre-checked squad of both genders? (Or add to the addled athletes, here or offhsore?)
Loose Savage
Luton Hewed
Jiffy Fence
Alias Camping
Jarred Hand
Zoo Goes
Stove Wag
Late Squire
Tympani Thus
SOLUTION NEXT WEEK
BB355 SOLUTION: O'Brien, Toys "R" Us, 7-Eleven, Yahoo!, Cap'n Snooze, Drāno, Häagen-Dazs, Lladró, Citroën
"