21 July, 2012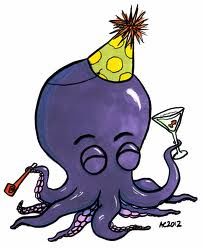 Like few other Storms, this contest bamboozled me. If you throw ten cryptophiles into one ballot, how can we differ so vastly in opinion? When it came to picking our favourite 4s, we singled out 16 of the possible 20 clues. Is that a spectrum of taste, a divide in philosophy, strategic voting or what? I'm still scratching for answers.
Our favourite 8-letter clue went to ASSEMBLE by Two Fat Ladies (see below), but this fell short of being our most highly prized cluster. And this comp was all about delivering a powerful combo, and not just one knockout blow. In ascending order, the podium:
STOP SIGN gave us pause with this trio:
DREAMING: Deluded dictator in extreme danger, for example
DREW: Tied reverse hitch around rooftop
MINE: Digger loses track of me
(FWIW, I thought DREW was divine. The trio tally was 9 + 12 + 8 = 29 votes.)
Next in line were TWO FAT LADIES, with the highest 8, but modest 4s:
ASSEMBLE: Labs seem poorly put together
ARSE: Buttheads of America run state economies
MOLE: Tickle freckle
(The tale of the tape was 21 + 5 + 6 = 32 – congratz on your silver sash.)
But our book-winner and rightful grinner is NEPTUNE, king of the cosmos for this cluster:
VICTORIA: Disheartened inertia after champ falls
VICE: Spotless recommendation for blemish
ARIA: Black sheep edges away, solo
(Impressively, the Roman sea-god swept up 18 + 2 + 18 = 34, with no tie-breaking Bonus needed. That honour, by the way went to Enough's magnificent MATE: Shag rug – Oriental)
Plaudit to the 8th planet, and all other podium tenants. I was Quaver on a miserable 1 + 12 = 13 tally, which may explain my bamboozlement. (I thought I was handy at this clue-making bizzo!!) But that's the joy of the Storm – blind voting can reveal so much. Thanks for collabor8tion, and Neptune, when you can, let me know your snail for the Fairfax collection.
"