30 July, 2014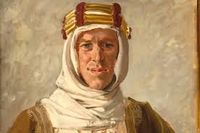 Hey Dabblers – thanks for keep the pot on simmer while I've been off-campus. Had some fun with the good people of Newcastle Uni, and then a spot of riddle-digging in Sydney (my new project).
While abroad, I thought about AB road, and other charades. Words like WHOLEGRAIN than can break down into WHO LEG RAIN, yet who can compose the neatest sentence that embraces both source word and charade string? A few of my early bids:
With no table, the notable surgeon was not able to operate.
During the Crimean War, randy TE Lawrence dreamt of leafy Warrandyte.
After curfew, the cops threw the cur few bones.
We visited a health spa in…
Etc. Simple game, yet who shall flourish as our Charade Champ I On?