8 May, 2011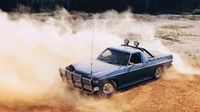 Today we run around in tight verbal circles. By way of explanation, follow this chain: jackhammer – hammerhead – headstone – stone blind – blind side – sidecar – carjack – jackhammer…. Dig the ring? Where every compound word or phrase overlaps its tail with its successor's opening. Now try to make a circular chain of seven links (one less than our example) from TABLE TENNIS to CARD TABLE. More than one solution will exist.
Wish to make your own circle for the gang to steer? Then it might be kinder to supply an oblique clue per step.
SOLUTION NEXT WEEK
BB208 SOLUTION: Landslide, Hurricane, Whirlpool, eruption, Cyclone, fire, Flood, Tornado, Twister, earthquake, Typhoon
"