10 June, 2014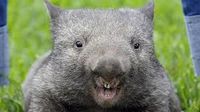 Bizarre idea, but let's give it a whirl. There's a Scrabble variation you can play called Clabbers, where a word like BIZARRE say, can be played as RZIRBAE, or any similar shuffle, including BRAZIER for that matter. For some refreshing eccentricity, with giddy scoring, I can recommend the offshoot.
So then, good enough for Scrabble, good enough for a Storm, I say. But let's put a cap on potential words to clabberise, using only animals (mammals, birds, fish, bugs) that own 6 letters. This means WOMBAT could be MOWBAT, or TWOBAM, or even TMWBOA. Any way you slice it. Then create a wordplay clue for your re-creation. I'll begin:
OBBING – Crying head off
GPHERO – Medic leading man
LUCOST – Two people proverbially engulfed in passion
Could be fun. Let's clabberise. See what madness we make.