1 November, 2011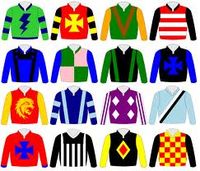 We stand some six hours away from one horse entering history – could it be Americain again? Or will Drunken Sailor make a last-minute swerve? (It's a fertile Cup from a crossword angle, as odds-on we will gain a new word or phrase.) Good luck all nags and riders, but before this nation stops, let's take pause and contrive some wordplay for the field.
Last year, for a Cup storm, we camouflaged ex-winners in wordplay. Some gems included:
MAKYBE DIVA: Perhaps about end of trek, keen to go back [JD]
VINTAGE CROP: Prime cut [Mauve]
AT TALAQ: A non-drinker like a Qantas pilot? [SK – best in the field]
AMERICAIN: In race I'm a champ! [LR – with some DA intervention]
This year, dabble with any horse in the field, listed below. Have some fun, with a flurry of drafts and tangents (and dud tips), and by late Thursday, let's all submit your own trifecta of favourites. That way I'll declare the Clue-Cup winner, plus two-place-getters, come the weekend. As with the examples above, no definition is necessary – just the wordplay.
AMERICAIN…..JUKEBOX JURY….DUNADEN….DRUNKEN SAILOR….
GLASS HARMONIUM…MANIGHAR….UNUSUAL SUSPECT…
FOX HUNT….LUCAS CRANACH…MOURAYAN…PRECEDENCE
RED CADEAUX….HAWK ISLAND…ILLO…LOST IN THE MOMENT
MODUN…AT FIRST SIGHT….MOYENNE CORNICHE…
SAPTAPADI…SHAMROCKER…THE VERMINATOR…TULLAMORE
NIWOT…OLDER THAN TIME
"