5 July, 2013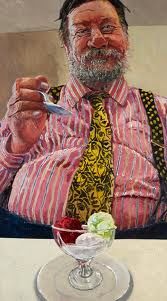 What a blissful week of British crosswords. Have you been indulging? I'd rate this week's Arachne and Loroso (FT) as being two of the finest tussles for quite a stretch. In case you've lacked the time – or tipoff – then here are X divine clues (to solve) and a handful of spoiler huhs from Arachne (and others) to answer.
ARACHNE
Marvellous Madoff? (5-5)

Transform an annoying person into a B-lister? (9)

Two English animals on the loose in Pacific region (9)

Diplomat's encouragement of revolutionary? (7)

Altogether fascinated by muscle reflex (2,5)
LOROSO
Moving? What, moving walls? (9)

Plug fitted in upright base (8)

Wicket taken by present bowler? Well? (4,4)

Entering temple, hostage turns as I swear (2,4,2)

Perhaps stripper, fighting back, has to get rid off going topless (3,6)
HUHS
Removing meat from menu, serves exceptional seafood = MUSSEL

Ban is such as to make one fearful = UNMAN

Cap in hand over foreign money, a beast picking over carcasses = HYENA

Relating to heart and – say – club correlation? = CARDIAC

Boring with Mandela in charge? = PROSAIC
Can you answer the golden clues? Can you explain the opaque clues? Can you draft snazzy clues for any of these 15 answers? We shall see.