21 December, 2012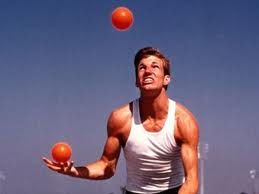 I'm prepared to say that in this six, the two Anax clues rate among the Clues of the Year, which we'll decide after Christmas. Before the, solve these and feel free to make your clues, with the accompanying answers, just to help newcomers appreciate the magic.
And as proof you've cracked the lot, you'll find a SEVENTH word hiding, once you scramble the second letters. What's the best clue you can conjure for that?
Cancel Caesarean section if laid up (5) [Times 9414]
Last line of Gettysburg address? (3,4) [Paul]
Vandalised walls in part of station (5,4) [Times 9425]
Japanese band love AC/DC (3) [Picaroon shows answer size doesn't matter.]
Juggling act using two balls for catching (10) [Anax #1]
After swapping starters, didn't bite sandwiches? (6,5) [Anax #2]
Jeez those last two are stellar – but will either win the COTY Cup? Share your insights, delights and alternative clues in the forum.
FIRST SPRING SOLUTIONS: 1. Gelignite 2. Member 3. Needlework 4. Far eastern 5. Dog paddle 6. Tresses