27 January, 2015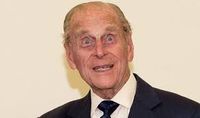 A low-key brainstorm to mark Prince Philip's new title of Sir, to accompany his dukeship and princedom. If the Buckingham inmate is eligible for a royal dubbing, then why not anybody?
That's the principle at play here. Anoint Sir or Dame on a random notable and see what the makeover can offer Who knows, you may find a richer anagram, a comical homophone, a nifty charade? Here's a few I've placed at the round table to get your royal juices flowing:
Sir Ahn Do - Polish or Danish?
Dame Meryl Streep - It's rough with ape heading out of last tree in wet
[EMERY + LaST + TREE in DAMP]
Sir Eddie McGuire - King died, stumbling on stadium cable, it's reported
[SIRE + DDIE* + MCG + 'UIRE']
Dame Delta Goodrem - Setter by the sea, awfully late for quality dreaming?
[DA-MED-ELTA*-GOOD-REM]