7 September, 2011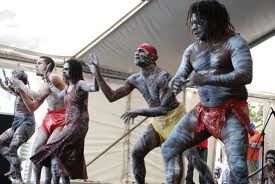 Part Two of our springtime clue-chase, where winter's wonders are rolled out for unravelling. Today you need to mix the six letters in second place among your answers to make TWO NEW WORDS, both six-letters long. And just to confirm your cryptic charisma, can you make clues for both words? Release the wonders:
Worshipping with song and dance group (7) [Times 8978]

Strong liquor served by street bar, no end (6) [Enigmatist]

A pace into seawater a departure from grass? (9) [Paul]

Powdered bottom (6) [Brummie]

Eternal right taken up, a sensitive thing (5,6) [Paul]

Perhaps lonely heart to spill beans twice (9) [Philistine]
So what TWO WORDS (both of six letters) can you create by mixing these answers' second letters? Once you twig, cna you craft two sweet clues?