4 October, 2013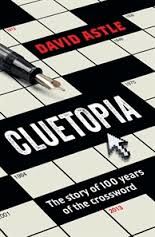 What a buzz to get a brown parcel yesterday. Inside was the newest title in the crossword niche, a C-format paperback of 308 pages devoted to clues from across the planet, across the century: a book called Cluetopia.
This was an advance copy, with honoured critics due for a copy next week, and a public release slated for October 21. Inside these covers sleep Superman, Nabokov, IKEA, Zulu gatecrashers and Yiddish bedbugs. There are murder cases, wedding proposals, Soviet propaganda and The Partridge Family – every story linked to a crossword.
Follow the link above if you wish to buy a fresh release, with an e-version on the cards as well. And seeing as though I'm pushing my brand here, what say a brand puzzle for our Friday folly?
If REFLEX ACTION is feeding paper into the photocopier (alluding to Reflex paper), or RELIEF TEACHERS is a dram of scotch after a long day, what other phrases can you skew into a commercial interpretation, using brands already listed as words in the dictionary?