15 December, 2012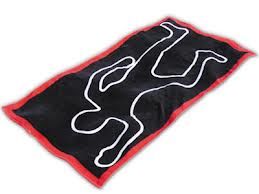 Midweek we applied our wits to an old murder mystery. A body found on Somerton Beach in Adelaide had the alias, Taman (or Tamam) Shud. This is Sanskrit for 'it is finished', owing to the victim's tampered copy of The Rubbiayat, where those words were missing.
Also on his person were letter strings with no apparent meaning. It was all very odd, a paradise for conspiracists, but now our own Storm is tamam shud, with a few notable mentions, and one clear winner. The notables
WRGOABABD: Wear red gown on a bed and breakfast date [Em, using props]
WRGOABABD: With regrettable grief over a bloody awful business deal [Grimmer alternative from AC]
WTBIMPANETP: With the best intentions, my plans are now ending too prematurely [Brilliant theory from CL]
But the winner of the Puzzles & Words could only be the evergreen inventor, SK, owing to a suite of anti-Adelaide propaganda that warrants showcasing in toto:
WRGOABABD: Wife regularly goes on about bloody Adelaide being dreary
MLIAOI: My life in Adelaide's occasionally interesting (crossed out….changed mind)
WTBIMPANETP: While the blokes in Melbourne party, Adelaide never ever takes part
MLIABOAIAQC: My Lord, in any bloke's opinion Adelaide is a quiet city
ITTMTSAMSTGAB: I thought that moving to South Australia might stem the gloom and boredom
Kudos to all cryptologists. I shall submit your eurekas to Federal Police and let's split the reward. More fun next week, in some shape or form.