18 June, 2012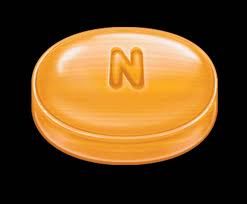 Weird how democracy works. Three of my favourite clues – Hanky's sublime Demazin below, Wheezer's stress-pill Strepsils and Abominable's debt + toll – hardly lured another dabbler. But then again, the voting spread was vast in last week's Splutter-fest, with all ten players attracting hits.
Totting up votes per clue-monger, perhaps the true test of Storm dominance, we have Rudolph earning bronze on 15 total, overshadowed by the Vitamin C Czars – Achoo (28) and Soldier Ron (32). Kudos to all three, but let's savour those top eight clues again to recall this lurgy-ridden riot with fondness. In order, from 8th to best, we go:
Attracting 6/2 (or 6 points in 2 votes), was Hanky for my beloved DEMAZIN: MAD Magazine's not half bad
The next two – both on 7 points – belonged to Soldier Ron. DEMAZIN: Randomize, or not randomized. And NUROFEN: Unfrozen. Cook without zapping first.
Fifth best on 8/3 was Achoo's terse wonder, STREPSILS: Twisted Sister's LP
Next comes Achoo too, with a 9/4 split for the refreshing spoonerism, HEAD & SHOULDERS: The Reverend's outhouse with tenants
Eclipsing this effort, by vote tally, was the Soldier on 9/3 for his leonine CODRAL: Cowardly sort surrenders when yelling starts.
But the golden cough drop is shared by two dabblers on a matching ratio. In no set order, we have Achoo for a timely DEXAL on 11/5: Relaxed about the Queen abdicating.
Mirroring the excellence of Rudolph's SORBENT. The deer with the luminous snozz succeeded with a deft sandwich clue: Transported around the globe
Thanks to all outpatients. Congratz to the Big Three. And cold comfort for all those dabblers in the draughty margins – including my own short-lived Sickie. This collective ballot system can ice your chances cruelly, despite your best-laid clues.