19 February, 2012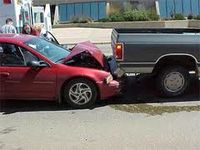 If CLAN arises from a Cadillac colliding with a Lancia, what collisions result in these other nine words below? Only makes of car (not models) are involved – and some prangs natrually will have more than one solution.
Note: in each case a car's tail will combine with another's front to create the word, just like the picture, with no internal mixing or rearrangement required.
(Any other accidental combos you can contrive?)
schemer
oversea
vomits
rumor [sic]
agenda
guard
infer
wren
clam
SOLUTION NEXT WEEK
BB349 SOLUTION: Cantaloupe, sarcophagi, garlic clove, soundtrack, misbegotten, smokestack, submit, martini, body lice
"