22 March, 2012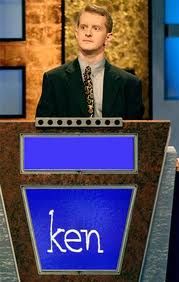 This head-scratcher comes from the King of Trivia, Mr Ken Jennings – the Mormon maven to win 74 straight episodes of Jeopardy.
The puzzle is based on naitons that can lose their opening TWO letters to spell a new word, such Sweden offers Eden, or Iceland (and Ireland) hiding eland.
Fair enough. But Ken's breezy list on his hyper-blog was concluded by four stormy clues. Too hard for Tom, Dick or Harriet, but just the kind of brain-strainers for you lot, and a Conundrum. See how you fare:
The name of a language spoken in that country

The first name of a well-known chef

An emotional state

A city in Kyrgyzstan
Your wisdom is welcome. And what other nations can you recruit?