13 November, 2011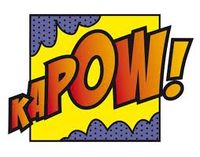 Back to our customary cacophony for this Brain, where your challenge is to replace one word in each cluster with its associated sound in order to create a familiar phrase.
Not clear? UPLION, for one, will turn into UPROAR, while TAIRCONB could morph into THUMB. Can you conquer the whole brouhaha?
vacowse
pipmouse
shyenater
doorbell battle
hocatard
maraven
pwindow
whippot
cymbal mat
credit celery
balloon star
jet lens
SOLUTION NEXT WEEK
BB335 SOLUTION: Sharpshooter, shoeshine, shrewish, dishwasher, shape shifter, sheepshank, Shropshire, shell shock, shipshape, hush-hush, short shrift, wishy-washy. Other words may be kosher-ish.