9 March, 2013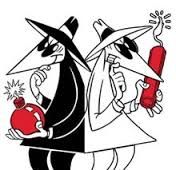 Mission accomplished, spy kids. What a brilliant Storm, perhaps because I abstained from entering this week, due to a conflict of interests. The winner – to remind you – earns top billing as the 1962 Chapter header, bang in the midst of The Great Clue Chase, appearing later this year.
The three words (two words, and one mini-cluster) appeared in The Ipcress File, unclued. Inviting you ten incognitos to do the rest. And here's the file:
ROUNDELAYS
For all those nude royals, the anagrams were tidy, rather than sublime. But the real sweet spot was in the container approach I thought. In ascending order:
Songs start off well, carried by Slayer medley [Cone of Silence invokes thrash metal, but 'carried' seems a wan signpost for a vivid idea.]
Songs that layer sound surprisingly [Again, 87 offsets a juicy anagram with a surplus 'that', though the story is melodic.]
Broadcasts include uncovered hit songs [Where hit is POUND, inside RELAYS, Mata Hari makes her impact.]
DITHYRAMBS
Our out-and-out best category. Very hard to play sole judge. There were several deserving top prize. In the end I fell this way:
Brahms' tidy work will not be found in a collection of these [Profumo finds a composer in a musical word – bravo.]
Celebrating ARIAs, ripped shirt. My bad. [Somehow the man from UNCLUE splices Greek culture, 60s espionage and Aussie rock in six words: brilliant.]
Hymns? Hims? Bad! Try another way [The more I considered this clue, the more in love I fell. The homophone. The signpost. The humour. Mwah to spyship.]
AWE/EWE/EAT/OAT/SAT
Tough assignment, to contrive a clue with any two of these nominees as answers. Firstly, kudos to ribble for their bl[eat]er ploy. But MOSSAD turned into MENSA with these coups:
EWE/OAT: Avoiding terminal, vessel imports grass [The Saint would have snagged gold with fresh syntax (Vessel, avoiding…) but an ingenious device I couldn't resist.]
SAT/EAT: Parked the seat to test one's wits [Double O, toying with two recipes, and the idea of being eaten as being frazzled. Neat.]
SAT/EAT: Settled on change of direction to attack [Cone of Silence switching compass points with dexterity.]
So who won? That's why I opted for the autocratic model. This was less about precise points than unearthing fine clues, handpicking the offering best suited to its new incarnation. In that regard, due to to its eloquence, plus the inbuilt ambiguity that captures the cluster mess, as well as Len Deighton's dereliction of duty, I congratulate spyship (whomever you may be) as the Crispest Ipcress, and co-author of Chapter 1963, kinda.
Hip-hip to you, figure of msytery, well done to Cone for the only double-mention, and a hearty chin chin to all other martini sippers. It was a fine affair.
"