29 October, 2013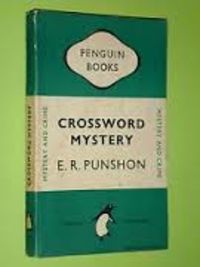 Crossword Mystery – that old whodunit that Sam unearthed – merits its own book-winning Storm. The penny dreadful, written by ER Punshon in 1948 – has a crossword that readers need to crack in order to advance.
At the risk of being unfair, most clues have not aged well. Take the sample for NETTLES, say, reads: Donkey's dinner; not yours, I hope. While SAMPAN cops this charade – Add a man's name to a kitchen utensil to make a boat.
As a clue-setter, ER Punshon was a fine novelist. But let's move on. What say we create new clues for any of the same puzzle's answers below? Give it your best shot, using both definition & wordplay. And to make the Storm complete, let's also come up with something clumsy, to capture the Punshon panache. (We should be able to spot the difference.)
To enter the Storm, use a whodunit alias. File your two best clues, plus your best 'Punshon' clue, by Thursday afternoon, 1-6. Voting on Friday via email will be simple: 4/3/2/1 for the best clues, and 3/1 for the Punshon creation. All players must vote. The winner will win a Fairfax book of Rainy Day Crosswords (quick, just like Punshon's opus), with results being declared on the weekend. Here are the words:
GOBLET
MORMON
CORNER
RUINED
TODDLE
SAFE
GRIT
Good luck all shamuses.