28 July, 2011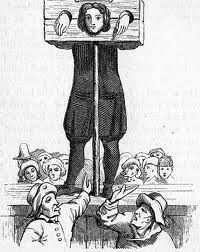 All rise. The Cryptic Court calls Puck, Paul and Bonxie to the dock. One by one, if you please. Each of you has an alleged misdemeanour to answer, with all Dabblers to act as jury. As this post marks a new category, entitled Cryptic Court, where I shall impeach a setter of a professional lapse, relying on your collective savvy to determine whether a conviction should be registered. First to the dock is Puck. His offence is Arbitrary Deletion, as evidenced in this clue from Guardian 25373:
Mounted odd piece in Tate Modern = UP-TO-DATE [Here mounted = UP, while 'odd piece' implies the letters OD, inside TATE. Surely the dropping of ODD's second D is a tad imprecise.]
Your verdict?
Case #2, Paul. His offence is Excessive Helpfulness. Hardly a felony, but a bit too touchy-feely in the concise strictures of Cryptopia, especially from a setter with libertarian tendencies. I give you this:
Wizard of Oz companion, little one close to Dorothy's heart? = TOTO [The wordplay is lovely, so lovely the clue doesn't need to lug its opening clause. Lance it, Paul. And add an exclamation mark to signal an &lit, and let me be the first to put a bouquet in the mail. How do you see it?]
Case #3, the court invites Bonxie to the box. (A bad week for Guardian setters.) His crime is Homophone As Definition:
Supplies drawer for stationery, say = STOCK-STILL [To parse the clue, 'supplies' is STOCKS, 'drawer' is TILL, and STOCK-STILL sounds like stationery, since its true definition is stationary. I once attempted this maverick move in 2003 and still sport the bruises. Have the times changed, would a question mark save Bonxie's skin – or are the stocks too good?]
"