27 February, 2014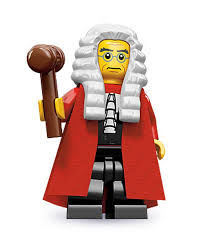 Tramping about in Nepal, I carried a Telegraph collection of crosswords for company – the perfect fix for any snowbound teahouse. Over the next month I'll be sharing some stylish clues, a few stumpers, a smatter of so-so stuff – and this sort of caper: the Cryptic Court.
This is a feature aimed at clues that will polarise. Are they good or bad? Do their authors warrant applause or solitary? I shall let you – my jury of peers – decide each setter's fate. And to show there's no hard feelings, see if you can compose some fresh alternative clues for the same answers.
Relaxing with eleven endlessly to watch the box = TELEVIEW [Myops asks a fair bit of the solver. Not only must you treating 'relaxing' as an anagram signpost, or isolate a quaint answer, but the double de-tailing is also unorthodox. Worth a yellow card?]

In past, drop with a jerk = STRAPPADO [Elgar attempts an &lit here, evoking the mediaeval rope torture in the wordplay. Does he succeed, or deserve his own medicine?]

Perch found occasionally in Gironde = ROD [Bit bloody casual from MynoT I reckon, saying a word is sprinkled somewhere in a larger French department. Apply the rod I say.]

Duke during banquet points to gong = MEDAL [No problem with the sandwich: Duke (D) in MEAL, but wondering about Campbell's red herring of points as a link….]

Both rather embarrassed dreamboat = HEART THROB [Campbell again. Looking past the olde worlde fluff of dreamboat – embarrassed as an anagrind?]

Mum agreed = NODDED [Excalibur's double definition – or is it a pun stab – sees me shake my head. What about yours?]
Post your verdicts (and zestier redrafts) in the forum.