7 December, 2010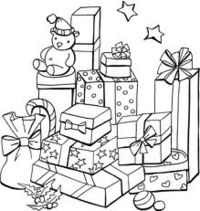 No time to make a cryptic clue like the present. So let's pick a bunch of presents – a Barbie doll, a bottle of Chivas, day-spa voucher, whatever you like – and wrap them in a clue.
Hold back your answer, unless we end up begging for it! As this Storm is both a clue-making and clue-cracking challenge, where every offered clue is a present in cryptic wrapping. Until Thursday sundown, we'll be crafting and cracking till every gift is undone.
Only seems fair that you murmur the present's category – such as TV series, DIY hardware, kitchen gadget, toddler toy, best-selling novel, and so on. Add to that the word length, and we'll do the rest, hopefully. Prizes go to shrewdest solver (not necessarily the Dabbler who unravels the most either) and classiest cluer.
As you can see in these three samples, the category serves as the definition. You also see that your clues can be brand- or title-specific, or opt for the generic:
Telco gizmo
Down in the mouth, in the mouth? (9)
Bestselling novel
Peyote larva drunk (3,4,4)
Soft toy
Second yelp essentially swallowed by the French jogger? (6,2,4)
Let's go steady, as plenty of back-tracking will need doing with this Storm, solving the first wave of offerings. But once we solve and roll, the tree awaits your genius as both crafter and cracker. So please, give till it hurts.
[ANSWERS: Bluetooth, Eat Pray Love, Tickle Me Elmo]
"