6 November, 2010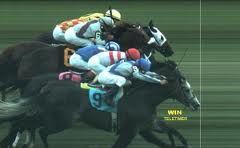 They were off, but you were on. Our best Storm in the new premises, with almost 100 entries from an august smatter of some ten clue-mongers. Congratz.
From the get-go, let me applaud dg's box trifecta (his epiphany to aim for Tawrrific) which in the end nobody could fully salvage. Other clues were almost dandy but fell at the final hurdle, pulling the wrong rein, so to speak. One glitch was an iffy signpost, like Mauve's pudding, or SK's sweep. Almost brilliant. Which means not quite brilliant enough.
Yet these nine thoroughbreds – on the other hand – are good for glory.
MAKYBE DIVA: Perhaps about end of trek, keen to go back [JD]
MEDIA PUZZLE: Shut up store; gave everyone's capital back [dg]
ROGAN JOSH: Back nag or horseplay [GymBunnies]
JEZABEEL: Poke about American speakeasy and Cockney lowlife [Mr X]
DORIEMUS: Save us from sins, Reverend Spooner [GymBunnies]
VINTAGE CROP: Prime cut [Mauve]
TAWRRIFIC: Brutal raw friction, no less [SK]
AT TALAQ: A non-drinker like a Qantas pilot? [SK – best in the field]
AMERICAIN: In race I'm a champ! [LR – with some DA intervention]
Photo finish this week, with newcomers GymBunnies beaten by SK's nostril, due to the kapow pedigree of that AT TALAQ. Fine event – not just wondrous, but tawrrific [sic]. Siya next Storm.
"